5.6.2020
Mayor Caster to Terminate State of Emergency on May 8, 2020 @ 5:00 PM; City Parks, City Hall and Police Department to Open to Public with Restrictions
Mayor Craig Caster will rescind the March 25, 2020 State of Emergency that was issued as a result of Governor Roy Cooper's Stay at Home Executive Order. With the expiration of the Governor's order on May 8th at 5:00 PM, Mayor Caster has also made that date the effective date of the termination of his State of Emergency.
City Parks will be officially open by the end of business on Friday, May 8th. Signage will be in place encouraging social distancing and the City encourages all users to wear face coverings to protect themselves as well as the general public.
On Monday, May 11th the public lobby areas of both City Hall and the Police Department will again be open to the public. Again, the City encourages all visitors to wear protective face coverings for their protection and the employees at all public buildings. Scheduled meetings with City staff will require temperature checks and mandatory face coverings to gain entry to the interior of the buildings. Plans continue to be developed to provide for a safe opening of the City's Community Center which is tentatively scheduled for June 1, 2020. More details on this will be released closer to that date.
The Mayor and Board of Commissioners would like to thank all the residents of the City for your cooperation during this period of time in helping combat COVID-19 pandemic and still encourage care be taken to combat this virus. While the restrictions are being reduced, the public still must practice social distancing and other means to reduce the spread of the virus.
For additional information please contact City Hall at 910-363-0025 or go to www.cityofbsl.org.
4.23.2020
Governor Cooper's Executive Order 135 dated 4.23.2020
CDC's recommendation on how to make a cloth face covering
4.21.2020
CITY PARKS and COMMUNITY CENTER REMAIN CLOSED
The City announced today that the State of Emergency issued by Mayor Craig Caster remains in effect and will continue until a decision is made on Governor Roy Cooper's Executive Order that is set to expire on April 29, 2020.
The City continues to monitor any modifications of that order which restricted groups to ten people or less plus other restrictions and led to the Mayor issuing the State of Emergency.
We will advise when they will be reopened and we thank you for your continued cooperation.
4.1.2020
BSRI Donation Box for Seniors
Help Provide Support to our Most Vulnerable Seniors During the Coronavirus Crisis!
If residents want to drop their boxes at the Community Center between 10 and 2, we will be happy to get a volunteer to take them to one of the BSRI Centers.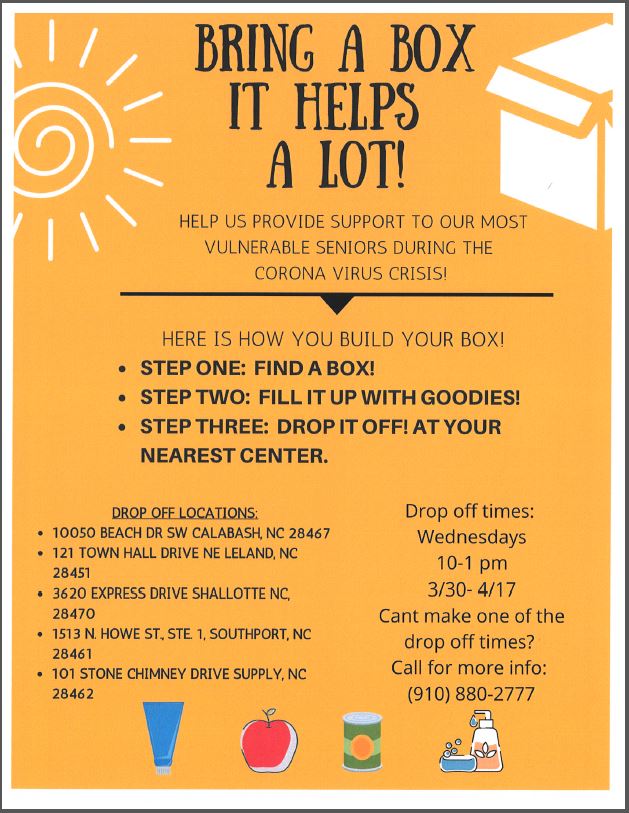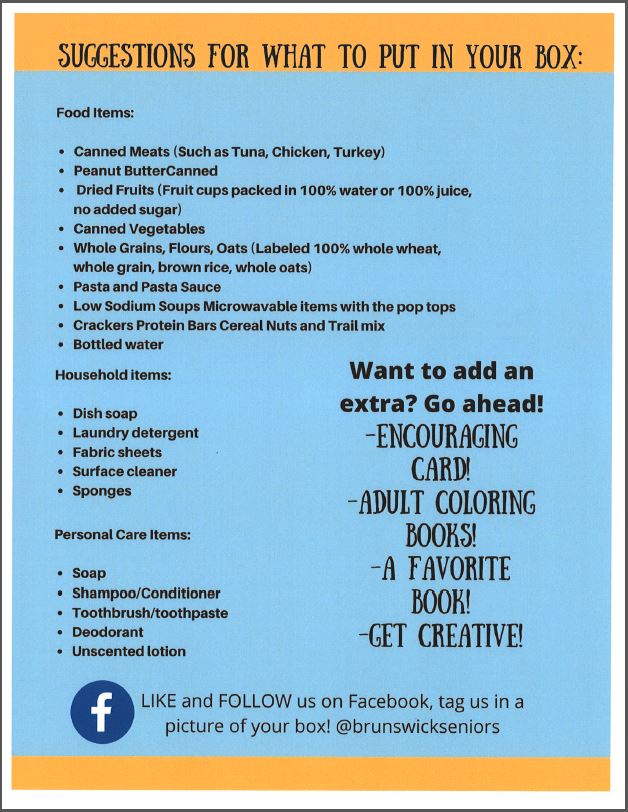 3.30.2020
Governor Cooper's 'Stay at Home" Executive Order 121
FAQs for North Carolina's Stay at Home Order
---
3.25.2020
3.24.2020
3.20.2020
---
3.19.2020
Brunswick County & CDC - Your Risk for COVID 19
---
3.18.2020 - UPDATES RE: COVID-19 CORONAVIRUS Edit
"The City of Boiling Spring Lakes continues to provide information as we receive it from federal, state and county sources as the COVID 19 incident continues. Attached is Governor Cooper's proclamation from March 17th and a frequently asked question sheet answering most questions regarding the actions taken. At this point in time the City is NOT in a locally declared State of Emergency that would be issued by Mayor Craig Caster. As such, all restrictions placed on commercial businesses are from the State of NC. The City will continues to communicate with the Brunswick County Government and local towns/cities and we will continue to provide factual information on the COVID 19 as we receive it.
At this point in time City events have been cancelled or will be rescheduled thru April 15th but City offices with the exception of the Community Center are open for normal business hours; 8:00 AM to 4:30 PM."
Gov. Cooper Executive Order 118